E46 The Stand of Niemoller
3 months ago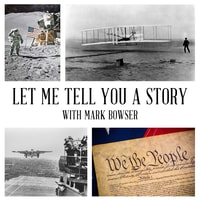 It could have been billed as the prize fight of the decade — Hitler vs. Niemoller. Who was the true winner? Get inspired as a courageous Pastor Niemoller stands his ground against the Nazi leader.
Mark Bowser is the author of several books including Sales Success with Zig Ziglar, Jesus Take the Wheel, Nehemiah on Leadership, and Some Gave It All with Danny Lane which was endorsed by Chuck Norris.
Mark Bowser is one of the best Professional Business Speakers in the United States. He has presented seminars to Southwest Airlines, Ford Motor Company, Sony Music, United States Marine Corp., FedEx Logistics, Purdue University, Delta Faucet, and many, many more. For more information or to inquire about booking Mark for your next conference or event, then please visit www.MarkBowser.com.
*We would appreciate it if you would give us a review on the platform you are listening to Let Me Tell You a Story with Mark Bowser. Thank you.